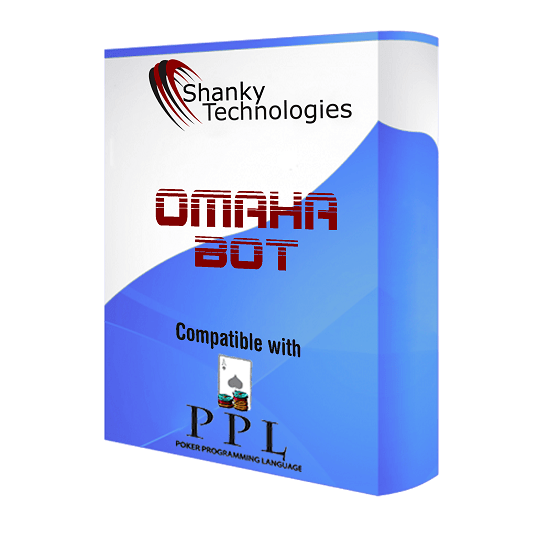 Our Omaha-Hi PLO poker bot now supports PPpoker and UPoker for PLO4 tables. The bot comes with several good profiles including an MTT profile which manages its stack well in tournaments. But the real action in this game on these app platforms is on cash tables, and for those we recommend the "headsupcash" profile that comes in the bot, as it plays a looser and more aggressive short-handed game. Use this profile for any cash table, even a full 9-max table should you find yourself at one. Although the profile is somewhat loose-aggressive, it is still far tighter than 90% of your opponents who are raising and playing every hand at most of these clubs, even garbage like K843 with the 8 suited. This is why you will beat them.
A word of warning here: We also sell an Omaha Hi-Lo bot for the poker sites we support (iPoker, Ignition / Bovada, etc.) and recommend you not download it if you are just wanting the Omaha-Hi PLO bot for the apps UPoker & PPpoker. The reason being that we have had some customers get confused and actually load the Hi-Lo profiles into the PLO bot, which, of course, results in disaster. The apps don't offer Omaha Hi-Lo, so there is no reason to download the bot if you are only playing UPoker or PPpoker and only potential downside from it. Just download the Omaha-Hi bot.
The next issue to address is that of PLO5 and PLO6.  Our Omaha Bot can only currently play PLO4. We understand that there is tremendous action at these new game types, so we are thinking about how to add support for them. It may be a simple matter of adding the higher "straight draw out" possibilities into the bot after training it to see all the hole cards. Then, of course, we need to tweak the profiles to optimally play huge straight draw wraps and figure out what to do with middle set when two opponents are raising and squeezing us all-in on a board of JT5 with two suits we don't own. But we will work all that out in the near future.
For now, please enjoy PLO4 with our Omaha-Hi bot. The action in many clubs is currently good at these tables as well. You can download our latest Omaha bots right now, here:
https://shankydownload.com/omdownload.htm
We are now keeping up support of our Omaha Bots along with our Holdem Bots, so that every time we post a Holdem Bot update we also post a corresponding Omaha Bot update that includes the same patches. You can follow the update announcements along with the change logs on our forum thread at:
https://bonusbots.com/support/index.php/topic,12.440.html
Cheers,
Shanky Technologies