We just added support for Ladbrokes Poker to our Holdem Bot software. Why another iPoker room? Because they have an EU license (no taxes on winnings) and, let's face it, Ladbrokes is one of the biggest names in gaming. You can download Holdem Bot version 7.3.2 with full support for Ladbrokes here:
http://bonusbots.com/hedownload.htm
The new version of the bot also comes with Doodle 104 as the default profile. That means it's now been improved 104 times, always with the help of our forum members posting hand histories along with suggestions for refinement. Those are rare these days, because this profile has become so strong it's hard to find spots for further improvement. The Doodle is a true community project that plays extremely solid tight-aggressive poker and is best used at full-ring NL tables (9 or 10 max). Here's a new chart someone posted of just 11,000 hands played: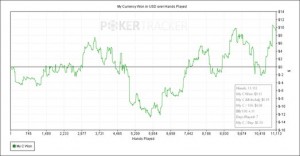 Basically break-even so far. What good is a break-even cash game profile? Lots! Rakeback, bonus-clearing, and earning credits for freeroll tournaments, just for starters.
Speaking of tournaments, we have more than a few MTT botters reporting good results with the many different profiles available. This graph was posted by someone using the 'webmtt' profile in tiny, $1 buy-in events:
_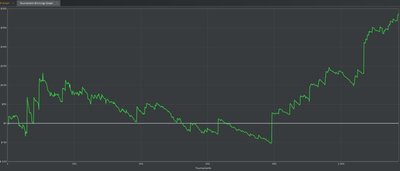 The results are probably too small for you to see on this reduced-size image, but it's up around $300 so far. That isn't too shabby for $1 buy-ins! Of course, we also have many success stories of using the bot in higher stakes tournaments, including some final-table scores reported with prizes won that were in the thousands.
Please note: When you upgrade from an earlier version of the bot to 7.3.1 or higher you will need to email us to request a replacement license. This is because we have changed the licensing scheme. Don't worry; it's a one-time thing so the replacement license will work with all subsequent bot upgrades. Just reply to this email with the Computer ID number the bot gives you and we'll send the new license back, plus we will add 1 month extra to your license term for your trouble.
That's it for now. If you need to buy a license, there's a link for that on the bot itself. Have fun at Ladbrokes and we'll see you (or your bot) at a final table soon.
Sincerely,
Shanky Technologies Team