We're happy to announce support for WSOP Poker. Our Holdem Bot is now fully functional on the Nevada, New Jersey, and UK poker sites for WSOP. The bot is also fully working on the New Jersey 888 site. You can download version 7.5.6 of the Holdem Bot with WSOP support here:
http://bonusbots.com/hedownload.htm
As always, all existing license holders get the upgrade for free. Your current license will work with the new version of the bot. WSOP is an 888-powered poker client so see the 888 section of the latest Holdem Bot User Manual for proper setup instructions. The bot will work in all game types including play money, cash games, SNG's, speed tables, and of course MTT's.
Speaking of tournaments, here's what two of our recent customers reported using the bot to play them:
"I had a free $50 tournament ticket for a first time deposit and decided to use it before it expired. I used the Doodle-MTT profile and finished in fourth place totally unassisted for a cash of around $600."
"I'm new to this but found the free Lion profile to rock for me, my bankroll is going up very nicely just playing 'on tap' tournaments."
And here's what a new customer said about his experience playing cash games with the bot:
"Playing only 1 and 2 cent blinds and usually just 3 tables at a time and maybe for only 2-4 hours per day the bot is up over $100. I recently made a $25 deposit and am now at $150."
Finally, this graph of results was posted in our forum just a couple weeks ago by a new member who is playing only low buy-in MTT's :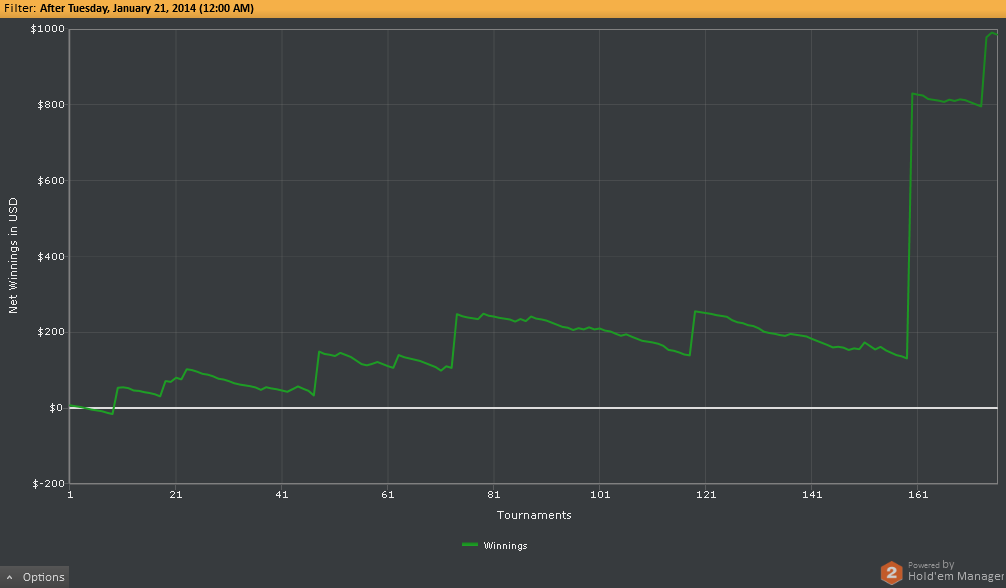 Up $1,000 on less than 200 events – now that's the way to build a bankroll. Way to go.
The bot plays all game types including DON's and heads up tables. There are profiles inside our support forum targeting just about everything, and you can easily tweak them any way you like for as many (or few) plays as you care to alter. We now support over 25 poker sites including Italian, French, Spanish, Danish, Belgian, USA, Russian, and Chinese-friendly poker rooms. At least one of our USA-friendly rooms takes players from all 50 states. Whatever type of online holdem you're into, and wherever you happen to live, we've got you covered. Our software can be a valuable tool in your poker arsenal, as you can see by the above unsolicited customer feedback.
That's it for now. If you need a license, there's a link to purchase one on the bot itself. Have fun at WSOP and we'll see you or your bot at the final table.
Sincerely,
Shanky Technologies Team