We are happy to announce the re-release of both our Omaha Poker Bots. They have been brought completely up to date with our Holdem Bot, so now work on all the same sites and tables, on both Windows 7 and Windows 10 machines at all our supported sites. (This includes all iPoker sites in all countries, Igntion, Americas Cardroom, BetOnline, Bovada, 888 Poker, and all the rest of them.)
Download either or both Omaha Bots version 9.5.3 right now, here:
http://shankydownload.com/omdownload.htm
The beta testers for these bots were excited at their results. Pot Limit Omaha, in both forms, appears to be an extremely fishy environment. Here are a few comments:
"Just watched the Omaha cash profile double its stack with top full house. It played the hand perfectly, suckering in the opponent, who held trips, little by little for his whole stack."
"I tried the Hi-Lo MTT profile in exactly one SNG and it cruised to 2nd place. It made no questionable plays. I don't think this needs any more testing."
"Really glad to see the Omaha bots back, as there is a boom in this game with lots of loose chips to be had."
To celebrate the Omaha Bot re-release, this week only we are offering all non-expired Holdem Bot license holders the opportunity to buy the Omaha Bot package for the renewal price, which is only $77 for the bundle. This includes a 1-year license for the Omaha and Omaha Hi-Lo bots. If you own an expired Holdem Bot license, all you need to do is renew it — then you can get both Omaha bots for the renewal bundle.
And, of course, if you ever owned either Omaha bot in the past, you also qualify for the bundle renewal deal as well. We probably have your records on file, so just ask.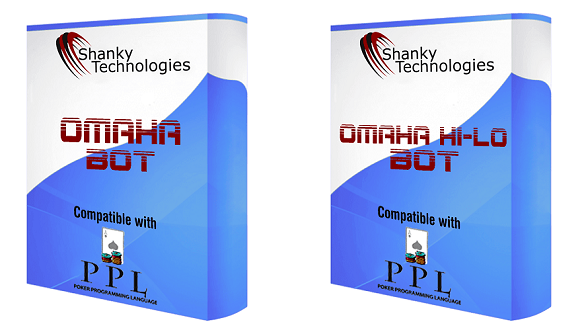 Current Site Support:
iPoker support: We're pretty sure all iPoker sites in all countries are working. You tell us.
Bodog & Bovada are both still supported, including Bodog88 in Asia and South America
USA Players: BetOnline Poker, Ignition Casino Poker, Bovada, America's Cardroom, Black Chip, PokerKing, Tiger Gaming, and Sportsbetting.ag are all "game on" for our bot on both Windows 7 and Windows 10.
France: The bot currently works at Betclic.fr in both the French and English language, but should also work on any other iPoker site there now
Italy: Eurobet.it, Titanbet.it, Bet365.it, 888.it and Betfair.it all now work in both the Italian and English languages, plus the bot should work at all other iPoker sites here now.
Spain: 888.es, Bet365.es, and Betfair.es are now all working in Spain, plus the bot should work at all other iPoker sites here now.
888 Poker is still supported but caution is now advised there, as they have been getting moody about their bot-tolerance policies lately – so don't keep too much in your account. You also need to use the older poker client, not the one with the blue felt. (The rest of our supported rooms are all pretty safe, as none of them have bothered us at all.)
That's it for now. If you need a license for any of our bots, there's a link for buying one on the bot itself – or else feel free to reply to this email for special purchasing instructions. Have fun botting Omaha and we'll see you or your bot at the final table.
Cheers,
Shanky Technologies Team
www.BonusBots.com