Can you refer sales to products that generate free money?
After registration you will be given a unique link code that you can use to post in forums, send in emails, or link from your website. (Spamming, however, will not be tolerated.)
Banners for webmasters. Feel free to use any of the banners below - just right click and Save to your computer. Use your affiliate code as the hyperlink. If you prefer, you can get the html code (complete with your affiliate link) after logging into the affiliate area, where you can also see all your clicks and sales. You are also welcome to make your own banners.
Contact us if you have any questions.
Static Banners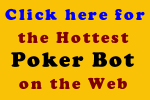 Animated Banners