Shopify Scraper Module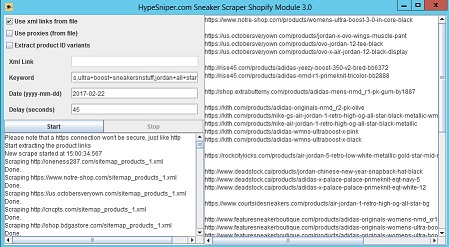 click image to enlarge
• Finds new & modified product pages on all Shopify sites
• Captures variants including size, records in log
• Proxy support (IP:Port format only)
• Long list of 75+ sites included, plus add your own
• Scrape by date and/or key words
• Scrape a single site or an unlimited list of sites
• Auto re-scrape timer, 5-sec min delay, only new links added
• One-click copy of output links to clipboard
• Unlimited multiple instances allowed
• Additional output logs record in .txt format
• Newbie-friendly with complete instructions
• Smoking fast
• Add-on Link Alert App tweets the links (optional accessory)
Drop Finder Module
click image to enlarge
• Crawls the html code of any web page
• List of 290+ non-Shopify URLs included from 170+ unique sites
• Pre-loaded sneaker site pages all hand-picked and tested
• Add your own URLs to the list (including the Shopify sites if you want)
• Find early links & create your own extended drop lists
• Find stock still sitting at low-key sites after a release
• Intelligent key word grouping instructions provided
• Monitor for random drop times on sites with no early links
• Auto re-scrape timer & Proxy support (IP:Port format only)
• Unlimited multiple instances allowed
• One-click copy of output links to clipboard
• Additional output logs record in .txt format
• Easy to use, smoking fast, detailed user manual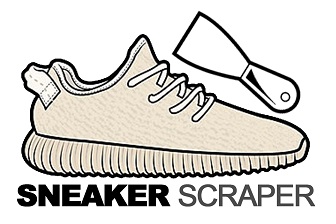 Windows only. Java Runtime must be installed (free to download). Movable license key allows two concurrent activations.
Swift Cop Special -- Inlcudes Link Alert App
Scraper + LinkAlerts App: $60 ($94 value)
To receive your download & license at a different email address than your Paypal email: or tweet us
Please note: License Keys are generated manually & delivery can take up to 12 hours!
Hypesniper members get big discounts on all our tools! It's a no-brainer. Join Now
License key for Sneaker Scraper is movable and allows two activations at any given time (both of which can be moved). This is a non-refundable digital product and all sales are final.
Disclaimer: The information on this website is for entertainment purposes only and is not to be taken as financial advice. Always consult your professional financial advisor before undertaking any new business venture. Profits are not guaranteed and there is risk in purchasing hyped products at retail. Our $19 monthly subscription can be cancelled any time, but the $79 for the eBook and/or the fee for the scraper software licenses are both non-refundable digital products. You can lose money. Proceed at your own risk.